A five-year-old girl has died from an illness linked to the bacterial infection strep A, BBC News NI understands.
The Black Mountain Primary School pupil became severely ill last week and was treated at the Royal Belfast Hospital for Sick Children.
On Friday the Public Health Agency (PHA) sent a letter to parents of P1 to P3 children at the school.
It said one of its pupils was diagnosed with a severe form of strep A.
Children were asked to attend a clinic to be seen by a doctor and receive a preventative course of antibiotics.
BBC News NI understands the girl had been treated in intensive care but passed away on Monday.
On Monday the principal of Brackenagh West Primary School near Kilkeel in County down said dozens of pupils were suffering from strep A infections.
The PHA is asking parents to be vigilant.
BBC News NI understands the authorities are working closely with those schools that are affected.
Black Mountain Primary is undergoing a deep clean.
Community groups are also being contacted about affected children who may have used their facilities.
What is strep A?
Most strep A infections are mild – a sore throat or a skin infection that can be easily treated with antibiotics. But some people who catch it can get very sick.
Some people develop scarlet fever, which causes a skin rash (that feels like sandpaper) and flu-like symptoms, including a high temperature.
Figures show there were at least 104 cases of scarlet fever in Northern Ireland in November, up from 43 in October.
Very rarely, strep A can cause something called invasive group A streptococcal infection or iGAS, which can be deadly.
Strep A: Why it can be dangerous and what to know
Invasive disease happens when the bacteria get past your body's immune defences.
In the rest of the UK, eight children have died due to complications from strep A bacterial infections since September.
Of those, seven were in England and the other was a seven-year-old in Wales.
The government said that during a similar period in 2017-18 – the last "high season for iGAS infection" – there were four deaths in England.
Warning signs of invasive disease include:
fever (a high temperature above 38C)
severe muscle aches
Urgent, early medical help is essential.
The UKHSA advises that anyone with a high fever, severe muscle aches, pain in one area of the body and unexplained vomiting or diarrhoea should seek medical help immediately.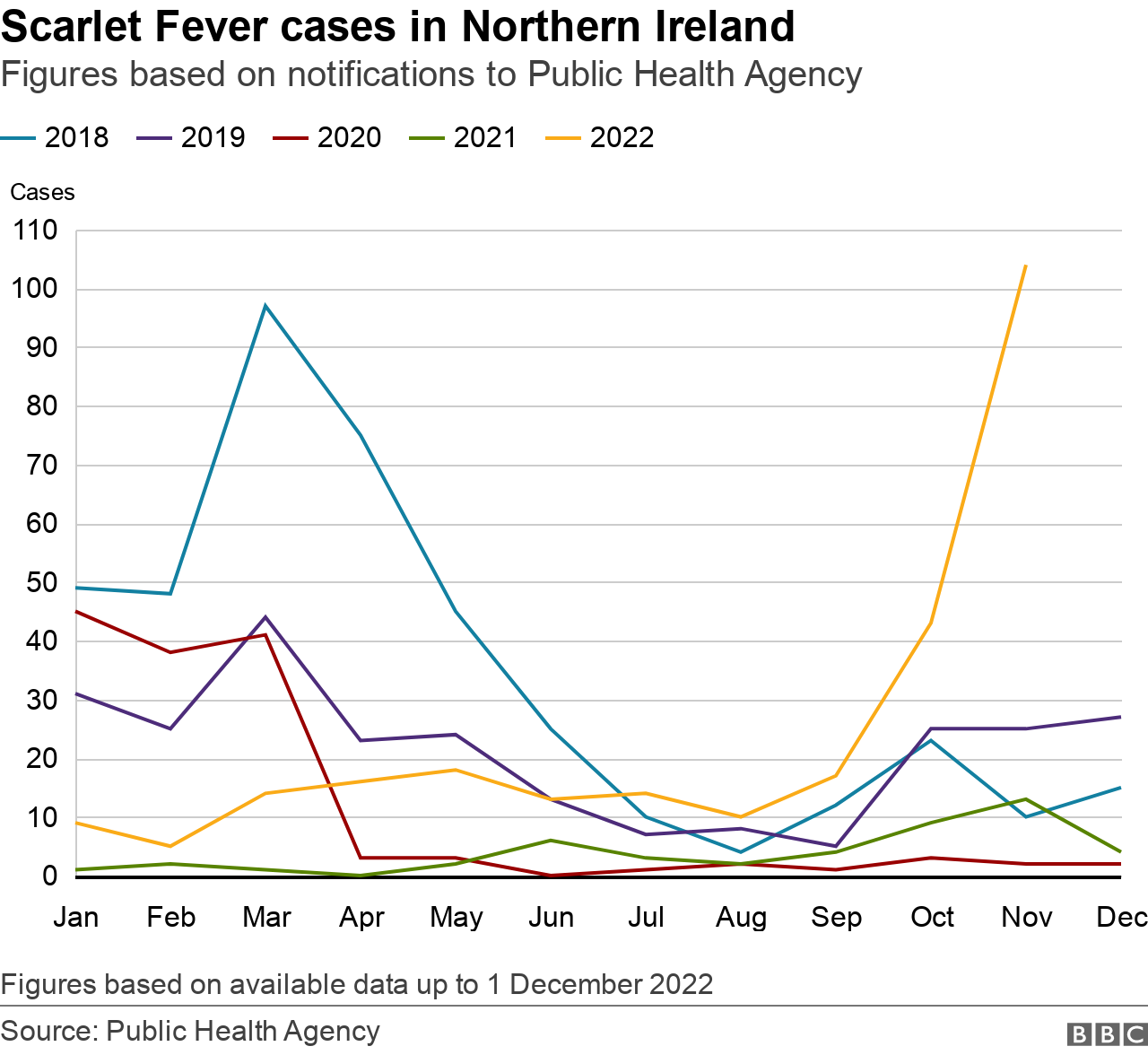 A strep A infection becomes dangerous when a child suddenly deteriorates, deputy chairperson of the Northern Ireland General Practitioners Committee Dr Frances O'Hagan said.
In these cases children should be taken to A&E as quickly as possible.
"The other thing to be aware of is that the treatment for strep A is an antibiotic called Penicillin V," Dr O'Hagan said.
"Penicillin V does not taste very nice so children will not like it, but it's very important that you get it into your child.
"And it's a 10-day course, so it's really important that you finish the 10 days."

Analysis: Cases are likely to rise
Parents need to be vigilant – that is the message from health officials and local doctors.
While those looking after children may be nervous about this unfolding story, it is important to remember a majority of cases are mild.
The UK is experiencing an outbreak because for two years, and during the pandemic, children didn't mix and their systems are not immune to a number of different infections.
There is a warning that the number of cases of both strep A and scarlet fever will rise over the coming weeks.
It is highly contagious so the advice from experts is keep sick children at home.
Parents of children who deteriorate quickly should seek urgent medical advice.

What should parents do?
As a parent, if you feel that your child seems seriously unwell, you should trust your own judgement. Contact your GP if:
your child is getting worse
your child is feeding or eating much less than normal
your child has had a dry nappy for 12 hours or more or shows other signs of dehydration
your baby is under three months old and has a temperature of 38°C, or is older than three months and has a temperature of 39°C or higher
your baby feels hotter than usual when you touch their back or chest, or feels sweaty
your child is very tired or irritable
Call 999 or go to A&E if:
your child is having difficulty breathing – you may notice grunting noises or their tummy sucking under their ribs
there are pauses when your child breathes
your child's skin, tongue or lips are blue
your child is floppy and will not wake up or stay awake