A total of 118 properties in Shetland remain without power as engineers continue to restore supplies.
Just 24 homes were cut off on Sunday morning but then a further 94 lost their supplies due to a secondary fault.
Scottish and Southern Electricity Networks (SSEN) is confident they will all be reconnected by Sunday afternoon.
Heavy snowstorms cut off 2,800 properties at the start of the week and a major incident was declared.
About 700 Shetland properties still without power
Engineers brave ice and snow to reconnect Shetland
Shetland power cuts declared major incident
Scotland on course for coldest December in a decade
On Saturday supplies were restored in Effirth, Gauderhouse, Wethersta and Stabaness.
As of 17:30 about 350 properties remained without power in Clousta, Murrister to Snarraness and Bayhall to Whiteness.
But this had gone down to 24 in Vementry, Grobsness, Brechin and Watsness on Sunday morning.
However, further homes were cut off in Freester, Eswick and Vardasta due to the secondary fault.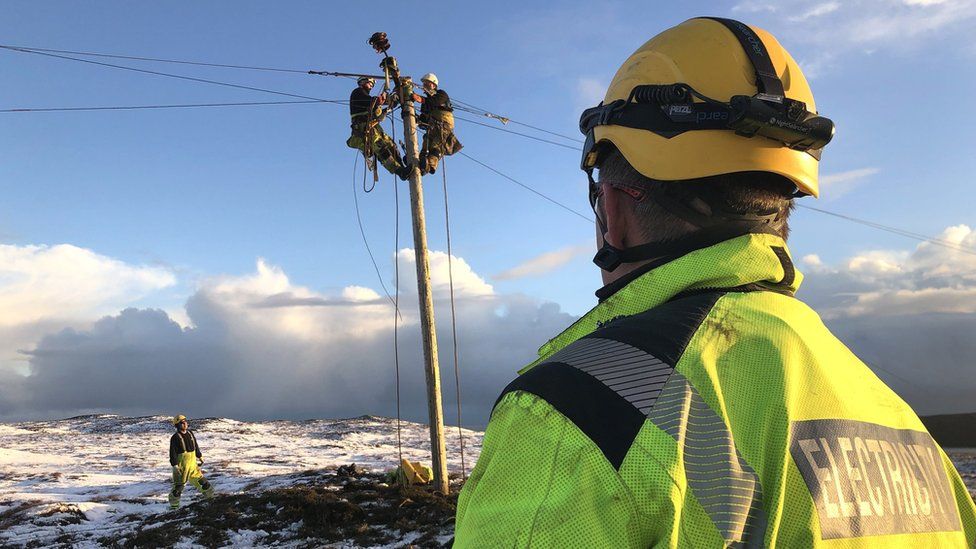 Teams of engineers had travelled by ferry to Shetland during the week to help fix the network and restore supplies.
SSEN said a 160-strong team was focused on the areas experiencing the worst of the damage caused by line icing, where snow and ice accumulated on large sections of power line, bringing down overhead lines and breaking wooden electricity poles.
SSEN said some properties may need to be temporarily disconnected for a short period of time during the work to prevent the circuit being overloaded causing damage to equipment which would lead to a longer power interruption for customers.
'Understand the challenges'
On Saturday evening, Mark Macdonald, head of region at SSEN Distribution, said: "With additional crews on Shetland today to bolster our army of engineers, we continue to make excellent progress ahead of our forecasts, restoring power to 350 properties through the course of the day.
"Our teams will continue to work throughout the evening and will be back out at first light tomorrow to push on with the final restoration effort. Barring no unforeseen challenges, we're confident we can restore power to all remaining properties by Sunday afternoon.
"We understand the challenges communities are facing after days without power and would like to thank Shetland Islands Council, our resilience partners and local communities for their ongoing support in co-ordinating warm hubs for local residents.
"We're proactively calling all customers without power to check on their welfare and would urge anyone who needs support to call us on 105."


How have you been affected by power cuts? You can share your experience by emailing haveyoursay@bbc.co.uk.
Please include a contact number if you are willing to speak to a BBC journalist. You can also get in touch in the following ways:
WhatsApp: +44 7756 165803
Tweet: @BBC_HaveYourSay
Upload your pictures/video here
Or fill out the form below
Please read our terms & conditions and privacy policy
0/500
Your contact info
I accept the Terms of ServiceSubmit
In some cases a selection of your comments and questions will be published, displaying your name and location as you provide it unless you state otherwise. Your contact details will never be published.
At no time should you endanger yourself or others, take any unnecessary risks or infringe any laws.
The BBC retains the right to select from these contributions based on editorial requirements and subject to online terms and conditions and BBC editorial guidelines. For more information about how the BBC handles your personal data, see here.
Made with Hearken | Terms of Service | Privacy Policy
If you are reading this page and can't see the form you will need to visit the