The UK government may seek to block Scottish reforms making it easier for people to change gender.
It comes after the Scottish Parliament voted to lower the age when people can apply to change their legal gender to 16, and remove the need for a medical diagnosis of gender dysphoria.
But this has prompted a clash with the UK government who have concerns over safety for women and children.
Nicola Sturgeon's Scottish government says it will fight attempts to stop it.
On Thursday, members of the Scottish Parliament (MSPs) voted by 86 votes to 39 to approve the controversial self-identification system, which makes it easier for people to obtain a gender recognition certification (GRC).
Changing gender to be made easier in Scotland
What are the plans for gender reforms in Scotland?
The two sides of Scotland's gender law debate
The UK government could prevent the legislation becoming law by blocking Royal Assent – when the Bill gets formal agreement by the King and becomes an Act of the Scottish Parliament. It has also not ruled out mounting a legal challenge.
UK Minister for Women and Equalities Kemi Badenoch said the Scottish government had not addressed the implications of the bill on the lives of women and girls.
She said in a statement: "The UK government is now looking at provisions that can prompt reconsideration and allow MSPs to address these issues."
Scottish Secretary Alister Jack warned: "We will look closely at that, and also the ramifications for the 2010 Equality Act and other UK-wide legislation, in the coming weeks – up to and including a Section 35 order stopping the Bill going for Royal Assent if necessary."
Under UK law, it can apply to have Scottish laws struck down by arguing they would conflict with UK-wide equalities legislation. This power has not been used before.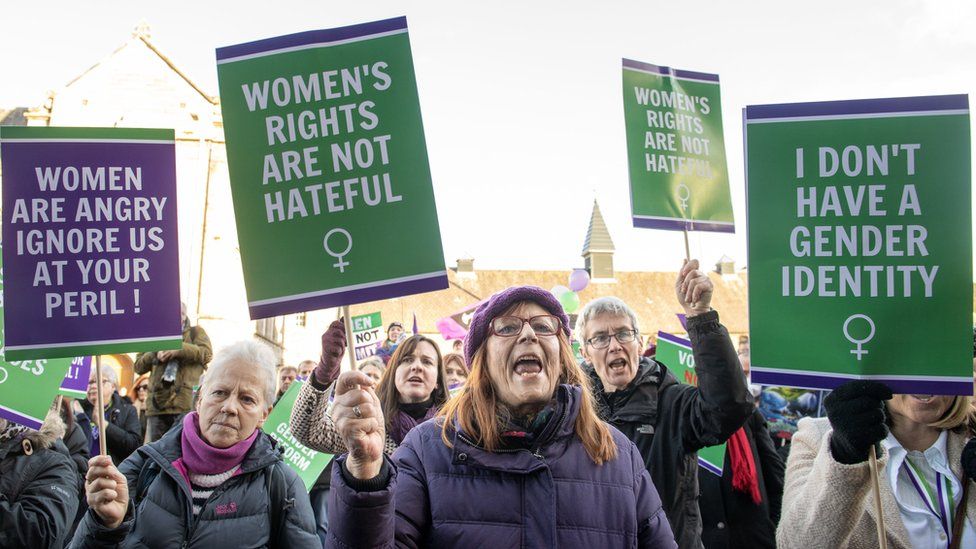 But a spokesman for the Scottish government warned that any attempt by the UK "to undermine the democratic will of the Scottish Parliament will be vigorously contested".
Speaking to the BBC's Good Morning Scotland programme, Scotland's Social Justice Secretary Shona Robison said the Scottish government was very confident of its position.
She added: "The bill as passed is absolutely within legislative competence and of course was backed by an overwhelming majority with support from all parties.
"It would be unfortunate to say the least of the UK government were to go down this road."
Scottish Lib Dem leader Alex Cole-Hamilton told the programme he would be "dismayed" if the UK government chose to block the bill.
"I think it's inevitable that this bill will end up in court in one way or another but I am confident that we have given it the diligence and scrutiny and tested it in Parliament to ensure it will withstand any court challenge," he added.
Will the law affect the Equality Act?
Previously, First Minister Nicola Sturgeon has said she would "never apologise for trying to spread equality, not reduce it, in our country".
The Gender Recognition Reform (Scotland) Bill's opponents, including nine SNP MSPs who voted against it, have fears over its potential impact on women and girls, in particular single-sex spaces, like toilets.
The Scottish government insists little will change and exceptions barring trans people from single-sex space in some circumstances in the Equality Act will stand.
Dr Michael Foran, a lecturer in public law at Glasgow University, highlighted how there was a section in the bill which says it will not change any provisions in the Equality Act – and for that reason it is probably within Holyrood's competence.
But he said this did not mean the bill has not changed the law "as it relates to the Equality Act".
He explained: "One of the protected characteristics is sex and if they change who can be covered under one category of sex vs the other that could have an effect on how the Equality Act operates. That's quite a technical legal argument but it would open the door for challenges."
Meanwhile Helen Belcher, head of charity Trans Actual which campaigns for trans rights, told BBC Radio 4's Today Programme the Scottish law would not affect the Equality Act.
"The Equality Act is not within the Scottish Parliament's jurisdiction to change," she said.
She added that trans rights should not be restricted "on the basis of a few people" who could take advantage of reforms to the law.
"It won't come as a shock to your listeners that criminals do nasty things, criminals break the law. But that's not necessarily a reason to prevent trans people from being treated with a bit of respect," she said.
https://emp.bbc.com/emp/SMPj/2.47.1/iframe.htmlMedia caption,
The passing of controversial gender reform laws receive mixed reaction in the Scottish Parliament
People in Scotland have been able to change their legal gender from male to female or female to male since 2005.
The Scottish government believes the existing process can be intrusive and distressing and put people off applying for a Gender Recognition Certificate.
The new rules, which are expected to come into force some time next year, will mean applicants will now only need to have lived in their acquired gender for three months – or six months if they are aged 16 and 17 – rather than two years.
There will be also be a three-month "reflection period" during which they can change their minds and it will be a criminal offence to make a false declaration or false application for a GRC, with anyone who does so potentially facing up to two years in prison.
It will be possible to de-transition by going through the process again.
Nine other European countries have already adopted self-declaration systems for legal gender recognition, including the Irish Republic, Denmark, Norway, Portugal and Switzerland.
Also on Thursday, Spain passed a bill bringing it a step closer to allowing people to change their officially registered gender by filling in a form.