A nurses' strike this month may be called off if the government negotiates "seriously" over pay, says the head of the union representing them.
A "swift change of tactics" would pay off for everyone concerned, said Pat Cullen, general secretary of the Royal College of Nursing (RCN).
The walkouts in England, Wales and Northern Ireland are planned for 15 and 20 December.
The government has said doors for further talks remain open.
The RCN is calling for nurses to be given a pay rise of 5% above the RPI inflation rate.
Ms Cullen said her offer to negotiate was turned down five times.
What will nurses' strike mean for patients?
Will you be affected by the nurses' strike?
"I will press pause on it when the health secretary says he will negotiate seriously on our dispute this year," she added.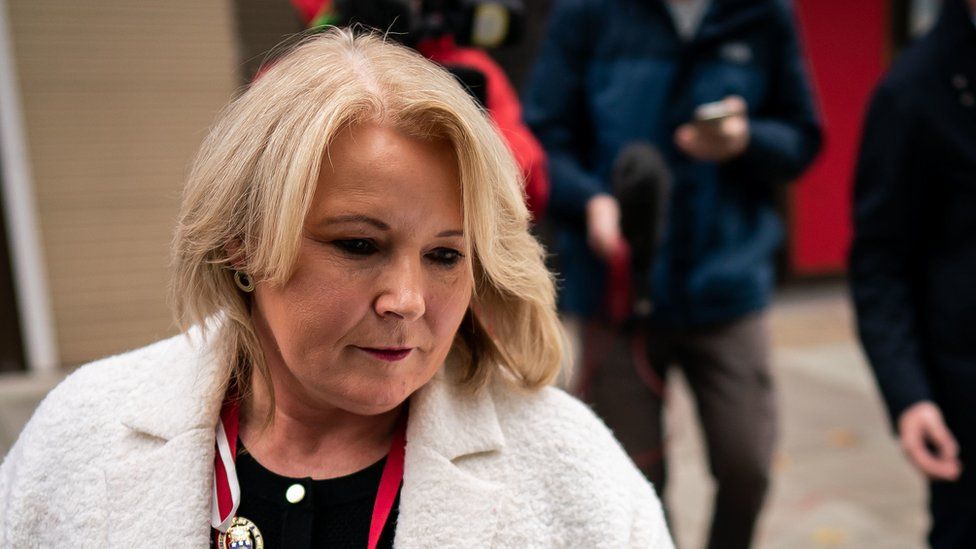 Under trade union laws, life-preserving care has to be provided during strike action.
This means that all nursing staff would be expected to work in services such as emergency care while other services, such as cancer treatment, may be partially staffed.
In Scotland, NHS staff were initially offered 5%, but that was changed to a flat rate of just over £2,200. Fresh talks there mean there is no strike action in Scotland for the time being.
Christina McAnea, general secretary of public service workers' union Unison, said that if Health Secretary Steve Barclay was to mirror Holyrood's approach and commit to boosting wages this year, "the threat of pre-Christmas strikes could well be lifted".
The Department of Health and Social Care said the government accepted the recommendations of the independent NHS Pay Review Body in full, meaning newly qualified nurses had a 5.5% increase while those on the lowest salaries, such as porters and cleaners, received a pay rise of up to 9.3%.
"Ministers have had constructive talks with unions, including the RCN and Unison, on how we can make the NHS a better place to work – and have been clear the door remains open for further talks," a spokesperson for the department added.