Three women remain in a critical condition after being injured in a crush at a gig at the Brixton O2 Academy that left several others hurt.
The concert, by Afro-pop singer Asake, had to be abandoned part-way through. A "large number of people" tried to force their way inside, the Met Police said.
Social media footage shows people screaming, shouting and struggling.
One of the crush victims said: "I couldn't breathe and I completely passed out. I thought I was dead."
The woman, who was taken to hospital from the venue on Thursday night with suspected internal bleeding, said: "I took my last breath and I could not get any more oxygen. I was so scared."
All three of those in critical condition are women, aged 21, 23 and 33 years, police said.
Their next of kin have been informed and are being supported by specialist officers.
https://emp.bbc.com/emp/SMPj/2.47.1/iframe.htmlMedia caption,
Watch: Video posted on social media shows police pushing a woman outside the Brixton O2 Academy
Videos on social media show the crowd stretching from the road outside to the venue's doors.
The Met Police said more than 4,000 people were in attendance and it has urged those with relevant photos and videos to submit them.
In a statement outside Brixton police station on Friday afternoon, Cdr Colin Wingrove said officers were called by staff at the venue, "following reports that a large number of people were attempting to force entry".
He added: "Some officers provided first aid and CPR to members of the public in order to save life."
The first officers were reported to be on the scene at 21:11 GMT, seven minutes after they were called.
A woman has been arrested on suspicion of assaulting a police officer.
In a separate incident footage on social media shows an officer pushing a woman from the steps.
The force said this had been assessed by the Directorate of Professional Standards and there was no evidence of misconduct.
It is also to review footage from cameras worn by officers at the scene.
The Met has also made a referral to the Independent Office for Police Conduct, which it said was standard practice following all incidents where police have been in attendance and members of the public have been seriously injured.
What happened at the Brixton Academy crush?
The concert was the final performance of three sold-out shows at the venue by Nigerian singer Asake, sometimes known as Mr Money. Before the gig, he had posted on Twitter asking fans not to try to gain entry unless they had tickets.
In a statement on his Instagram account, Asake said: "My heart is with those who were injured last night and caused any form of discomfort. I pray you get well soonest."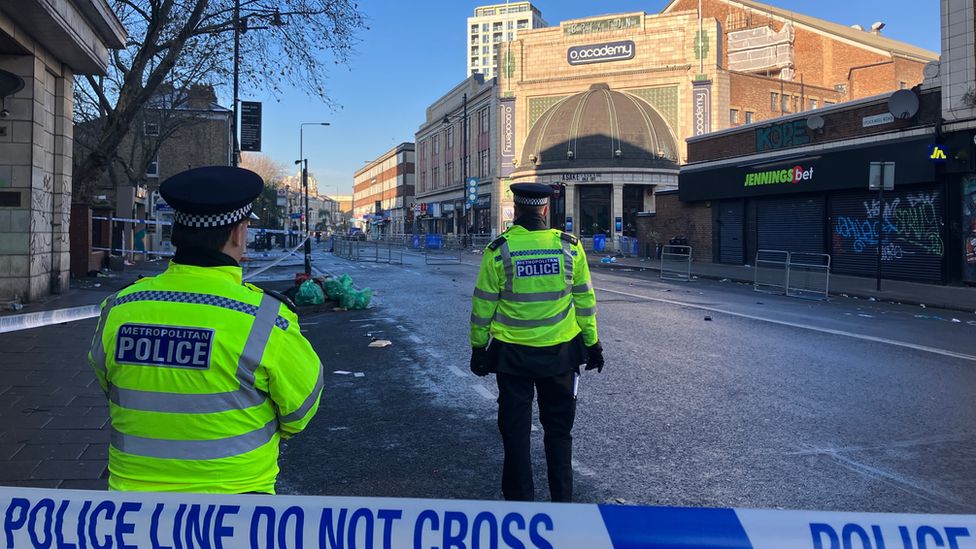 The woman who passed out at the venue spoke to press agency UKNIP after being discharged from hospital. She said: "I was trying to get up, people were stepping on my head, all over me. I had more than 10 people on top of me.
"A man pulled me out so when I woke up I was in the back of the ambulance."
The woman, from Battersea in south London, suffered skinned knees and a black eye. "I'm just grateful that I've come away with no broken bones; they thought I had internal bleeding but thank God they did a CT scan and I'm good," she said.
https://emp.bbc.com/emp/SMPj/2.47.1/iframe.htmlMedia caption,
Watch: Brixton gig cancellation announced amid crowd concerns
One of the security staff working at the event, who wished to remain anonymous, said it initially seemed like many of the other events they have worked on, until people started arriving in large numbers just before Asake went on stage.
'Blood everywhere'
"The people that were coming had no tickets. At the first barrier we were saying to everyone, 'have your ticket ready, have your phone in the air, show it to us' and then they could walk through.
"But what you got was people from other directions trying to queue-jump."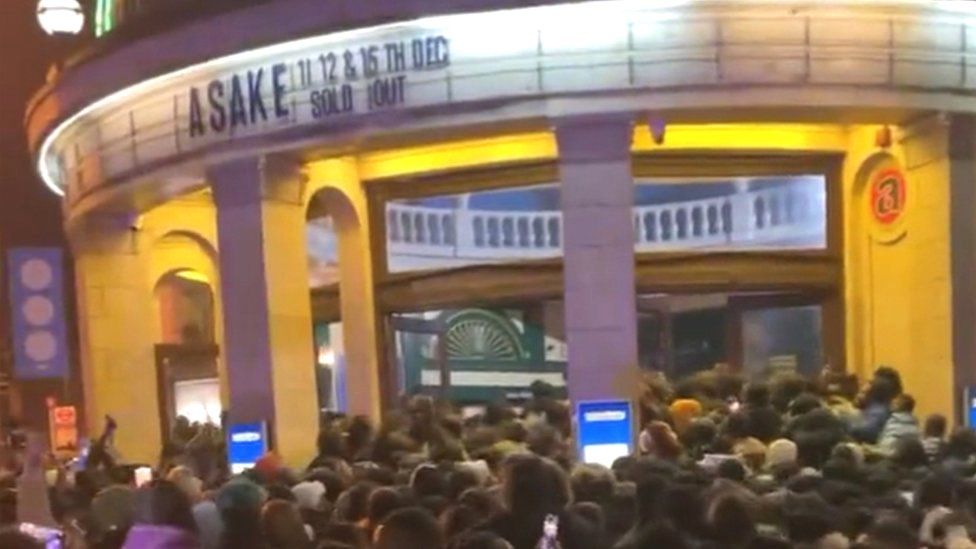 They added: "People were falling over. People were running in and trampling over people on the floor, there was blood everywhere.
"The defibrillators were gone – the emergency services were trying to save people's lives."
'Two ladies fainted'
Akin Oluwaleimu, 53, from Kirby Cross near Colchester, went to the gig with his daughter Elsie, 14, but decided to return home after things turned "rowdy" outside with "a lot of pushing".
"We didn't get inside. When we were leaving we were told the show had been stopped.
"Two ladies fainted and were carried up high away… I was not worried about myself but I was worried about my daughter's safety."
Another witness, Jay Taylor, 24, from Greenwich in south-east London, described how a minority of apparently ticketless fans tried to force their way into the venue.
She said: "People were literally jumping on each other and even on to the police."
Florence Eshalomi, MP for Vauxhall, whose constituency includes Brixton, called the incident "deeply concerning".
She said: "It is very clear ticketing and security procedures have not performed as they should have for this incident to have occurred.
"We need answers about exactly how this happened and safeguards against it in future."
Speaking to BBC Radio 4 World at One, she added it was "really important" for professional standards to review police body-worn footage in relation to how officers responded.
James Hooker, director of operational management at AP Security, which worked at the gig, said: "We are working with our lawyers, the operators of the premises and the authorities to provide all information that is needed.
"We will continue to work with all parties and are unable to provide any information at this time while those inquiries are completed."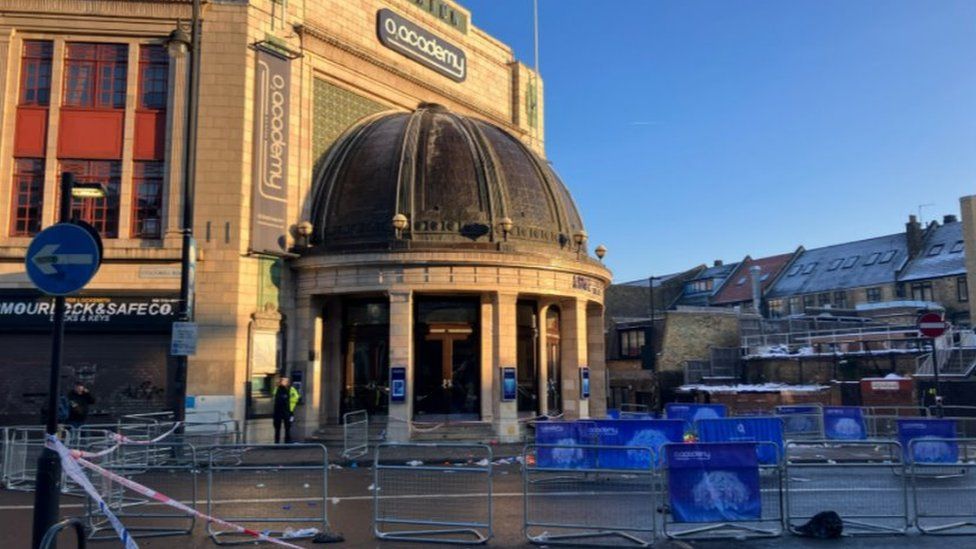 Serious crushes at British gigs are very rare.
In 1974, a 14-year-old David Cassidy fan died at the pop singer's concert at the White City Stadium in west London, with another 700 people injured.
At the Monsters of Rock festival in 1988, two people lost their lives in a crowd surge when Guns N' Roses played at a muddy Castle Donington in Leicestershire.
Earlier this year, the Liverpool M&S Bank Arena – where next year's Eurovision Song Contest will be held – launched an investigation after fans complained of overcrowding at a concert by local hero Jamie Webster, although no injuries were reported.
It has become common for artists to pause their shows if they suspect there may be a problem in the crowd, with heightened awareness of such dangers in the wake of the tragedy at Travis Scott's Astroworld festival, in Texas in November 2021, in which 10 people died.

'Breakout star'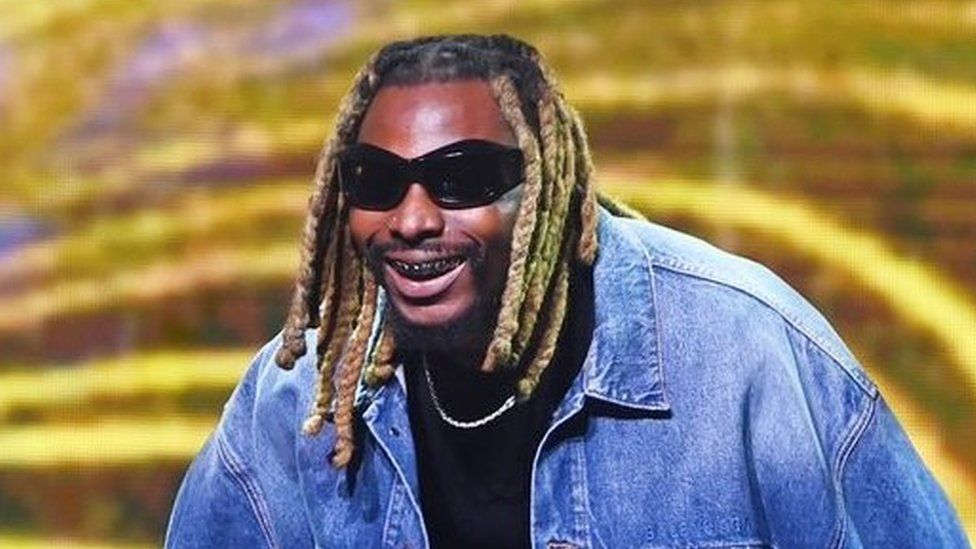 Asake, whose real name is Ahmed Ololade, was nominated for BBC Radio 1's Sound of 2023 award.
Described on the Brixton Academy website as "one of the hottest breakout stars from Nigeria", he is touring his debut album Mr. Money with the Vibe.
Born and raised in Lagos State, Asake's songs are part of the Nigerian street-pop subgenre that blends Afrobeats with Amapiano, pop melodies and street-smart rap lyrics.
He had a breakout hit in 2020 with his single Lady.